Wir sagen DANKE für eine großartige und tolle Ausstellungszeit!
Alle Veranstaltungen zum Nachsehen finden Sie hier.
Located at four unique venues with a packed programme over four months, this Carinthia-wide exhibition shows for the first time the spectacular oeuvre of one of Austria's most prominent architects.
Exhibitions at the Museum Moderner Kunst Kärnten and the Architektur Haus Kärnten encompass a wide range of Günther Domenig's artistic and architectural body of work.Two of his key works, the DOMENIG STEINHAUS and Heft/Hüttenberg, will themselves become exhibition objects and play host to a comprehensive programme.

An Architektur Haus Kärnten project in cooperation with the Province of Carinthia together with the Museum Moderner Kunst Kärnten, the STEINHAUS Günther Domenig Privatstiftung and Heft/​Hüttenberg. Curated by section a.
At the MMKK, the exhibition's curators explore the relationship between architecture and art. The works of architect Günther Domenig are brought into a dialogue with contemporary artistic positions and selected pieces from the museum's collection. Works by renowned photographers highlight the uniqueness of Günther Domenig's work.

With works by Raimund Abraham, Christian Brandstätter, Herbert Boeckl, Peter Cook, Franco Fonatti, Julia Gaisbacher, Peter Kaschnig, Cornelius Kolig, Maria Lassnig, Sonia Leimer, Gerhard Maurer, Thom Mayne, Ferdinand Neumüller, Stefan Oláh, Paul Ott, Gustav Peichl, Walter Pichler, Klaus Pinter, Anna Rubin, Peter Sandbichler, SHE SAID, Hans Schabus,Toni Schmale, David Schreyer, Margherita Spiluttini, Wolfgang Thaler, Lebbeus Woods, Gerald Zugmann.
The exhibition at AHK brings Domenig's architectural work into dialogue with subsequent generations of architects. The Viennese Kollektiv 4 transforms AHK into an overall spatial media installation and opens up new perspectives through Günther Domenig's slide archive in the Az W. This dialogue will be supported by a series of lectures and talks with architects and experts.
With works by Kollektiv 4 (Christian Freude, Christina Jauernik, Johann Lurf, Fabian Puttinger), Peter Kaschnig, the next ENTERprise Architects, Kathrin Aste (./​studio3).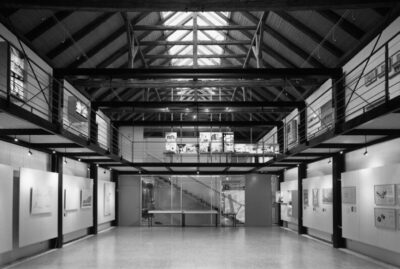 As Günther Domenig's key autobiographical work, the DOMENIG STEINHAUS itself becomes an exhibit and its physicality is investigated through the medium of performance. Over three weekends, the Tanzquartier Wien (TQW) will occupy the Steinhaus with invited guests. Both architecture and sculpture at once, its expressive gesture becomes a resonance space for other art forms, in keeping with the programme of the STEINHAUS Günther Domenig Private Foundation.
With Julius Deutschbauer, durch:formen (Katrin Ackerl Konstantin, Niki Meixner, Erik-Jan Rippmann), Alexander Gottfarb, Barbara Kaiser, Andrea Maurer, Karin Pauer and Aldo Giannotti, Oleg Soulimenko and Doris Uhlich.
Created for the Carinthian Regional Exhibition in 1995, this building is both a location and an exhibit, and is today considered a central work in Günther Domenig's architectural oeuvre. Over several years the vacancy of the building has led to a unique setting of sculptural-architectural overlays created by nature. Temporary artistic interventions and works by artists and students from selected art and architecture universities will once again open up the building to the public.
With Arobota+, Florian Hecker, Incredible Bob, Brigitte Mahlknecht, Eva Schlegel und 2MVD
AA nanotourism Visiting School: Architectural Association (AA) School of Architecture, London
Fachhochschule Kärnten: Studienbereich Bauingenieurwesen und Architektur, Studiengang Architektur, Spittal/​Drau

Hochschule für Technik Stuttgart: Architektur und Gestaltung, Stuttgart

Peter Weibel – Forschungsinstitut für digitale Kulturen: Mihály Németh und Sophie Publig, Wien

Technische Universität Graz: Institut für Architekturtheorie, Kunst- und Kulturwissenschaften, Graz

Universität für angewandte Kunst Wien: Institut für Architektur, Studio
Greg Lynn, Wien

Universität Innsbruck: Institut für experimentelle Architektur ./​studio3,
Innsbruck

Alpen-Adria-Universität Klagenfurt: Institut für Kulturanalyse
mit Simone Egger, Klagenfurt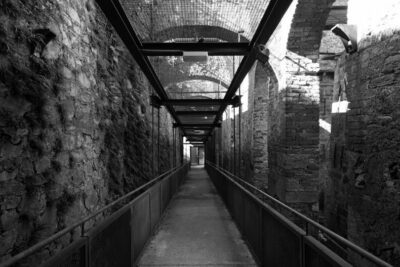 IN RESONANCE

Essay by Anna Baar and photos by
Gerhard Maurer.
The publication In Resonanz takes an unusual approach to exploring Günther Domenig's architectural oeuvre. The architect and his work are viewed from the outside: outside the dominant modes of perception; outside his lifetime; outside the norms of an architecture book – and for this very reason, it creates other ways of perceiving.

Available from 10.06.2022
at Museum Moderner Kunst Kärnten,
Architektur Haus Kärnten
and DOMENIG STEINHAUS
Published by JOVIS Verlag,
German/English/Slovenian
IN REFLECTION
With contributions by Matthias Boeckl, Simone Egger and Lukas Vejnik, Doris Lippitsch, Valerie Messini, Hans Ulrich Reck and many others.

In Reflexion is the scientific and artistic supplement to the publication In Resonanz. Multiple authors explore the work and impact of architect Günther Domenig from a contemporary perspective. This (architectural) theoretical, artistic and feminist examination provides further and fresh thinking to expand on what is already known, while also rediscovering forgotten or overlooked material.
Available from December 2022
at Museum Moderner Kunst Kärnten,
Architektur Haus Kärnten
and DOMENIG STEINHAUS
Published by JOVIS Verlag,
German/English/Slovenian